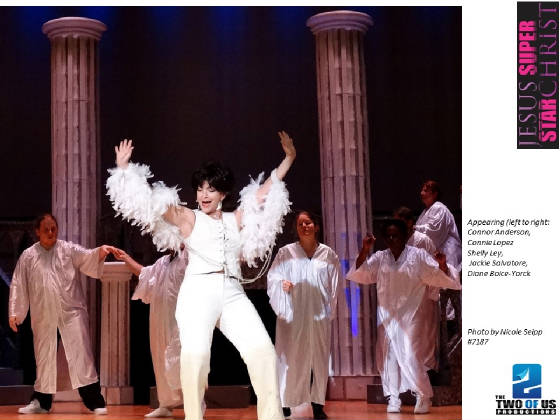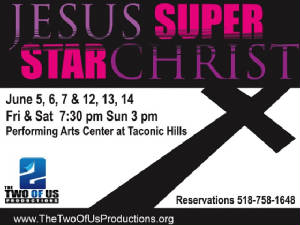 Timeless Tale Gets a New Twist by The Two of Us Productions
The Two Of Us Productions in collaboration with RARE, Inc., the award winning non-profit theater company based in Copake NY, is bringing an updated version of Jesus Christ Superstar to the Performing Arts Center at Taconic Hills Central Schools. The show opens June 5th 2015 & runs for 6 performances. Jesus Christ Superstar is the rock opera created by Tim Rice and Andrew Lloyd Webber. It highlights political and interpersonal struggles between Jesus, Judas, the zealots and priests while suffocating under the Roman occupation. The opera follows Jesus during the last few weeks of his life, beginning with the preparation for his arrival in Jerusalem and ending with his crucifixion.
Director & co-producer Stephen Sanborn says the story is as current now as it was two thousand years ago, "That is why our production sets the story in current times. It will have an urban feel, as will be seen by our casting, set, costuming and choreography." Sanborn set out to use non-traditional casting for all roles with the exception of Jesus and Mary, commenting, "I considered both women and men for all the other roles and was lucky enough to find a large group of incredibly talented local actors. We'll also be using some hip hop style choreography in this production to convey the gritty personal struggle in this show. Constance Lopez, our usual choreographer has been studying with some wonderful dancer/choreographers and is very excited to have them involved in this production." Choreographer Lopez goes on to say that she is thrilled to have Debra Jo Hughes & Marcus McGregor from Hudson Valley Academy of Performing Arts (HVAPA) contributing choreography for this production. Lopez says "it is an honor to be working with dancers of this caliber.". Stephen & Constance, working with their talented vocal director Daniel Galliher, are in the midst of rehearsing the cast & full orchestra, and looking forward to opening on June 5th, 2015.
What our Audience has to say about JESUS CHRIST SUPERSTAR:

"If you missed Two Of Us/RARE's production of Jesus Christ Superstar, you missed an award winning show. Congratulations to all in the company who brought this to the community" -- Paul N., TANYS (Theater Association of NY State).
Ester and I enjoyed the whole show very much. It was created to move us, and it did. The energy of the cast (led by Constance for sure), the music and the whole production were great? -- Lembit S., Niskayuna NY
"The show deserves the (TANYS) awards. It was an excellent production" -- Dan M., Hudson, NY.
Be a part of the action! If you are interested in getting involved in front of the foot lights or behind the scenes with our production team? We'd love to hear from you. From house management, to concessions, to musicians and artists, actors and stage crew, there's a place for everyone.
To contact us for more information:
call 518-329-6293,