What our Audience says about CHICAGO, THE MUSICAL:
" Beautifully conceived and executed, the show was a delight from start to finish" -- Joan Luther, TANYS Adjudicator
" CHICAGO cast breathes new life into Jazz Age Setting" -- Marion Hunter from The Columbia Paper
We were totally impressed with how much you conveyed with your well designed set & use off props. It showed how much a talented cast and director can do. I enjoyed the show immensely and I'm very glad to find such good theater in Columbia County -- Anonymous from Philmont, NY.
I have heard rave reviews from my friends who attended this weekend's performances -- Dan M. from Hudson NY.
" As Roxie .. we have Constance Lopez .. she finds the vaudevillian's demand ....just as doable as the drama and introspection of her character in 'Next To Normal'. On her it looks easy" "Alissa Wyatt at Velma as Velma has beauty, acting skill and voice .. I hope for more of Wyatt from these producers" " Brian Yorck as the slick-and-sleazy Billy Flynn is convincing" "Brian Mauch as the cellophane man is adorable" " -- Marion Hunter from The Columbia Paper
Great show on Saturday night! -- Debbie B from Hudson NY.
Took eleven family members, including myself, to see opening night of CHICAGO. I'd seen your previous production but I though the quality and energy of this show was by far the best! -- Ed F. from Kingston NY.
TANYS AWARDS: The Theatre Association of NY State recognized our production of CHICAGO, THE MUSICAL with seven awards:
- Excellence in Production Design and Execution to the Director, Production Team, Orchestra, Cast and Crew
Excellence in Ensemble Performance to the Cast
Excellence in Performance to Alissa Wyatt for her portrayal of Velma Kelly
Excellence in Performance to Constance Lopez for her portrayal of Roxie Hart
Excellence in Choreography to Jennie Smyth and Constance Lopez
Excellence in Direction to Stephen Sanborn
Excellence in Dance to Mike Van Horn


You can see all the awards by visiting www.TANYS.org and looking for CHICAGO by The Two Of Us Productions/RARE.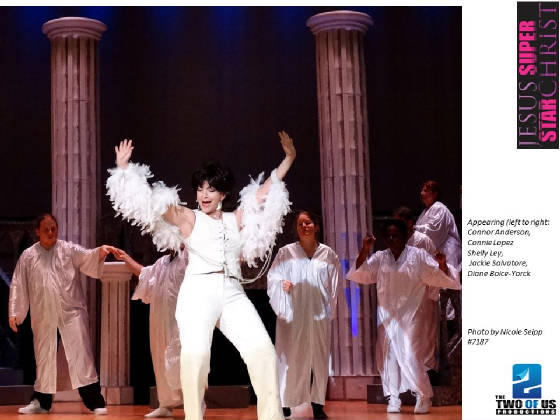 Our production of JESUS CHRIST SUPERSTAR has been recognized by The Theater Association of NY STATE (TANYS):
Outstanding Musical Direction & Conducting to Stephen Sanborn

Excellence in Acting to Constance Lopez (Judas Iscariot)

Excellence in Acting to Betsy Rees (Mary Magdalene)

Meritorious Vocal Direction to Daniel Galliher

Meritorious Singing to Joseph Alvarez (Jesus Christ)

Meritorious Acting to Brian Yorck (Herod)
You can see all the awards by clicking here and looking for JESUS CHRIST SUPERSTAR by The Two Of Us Productions.
If you'd like to talk to us or arrange for a business sponsorship please contact us at