Coming in Fall 2014 - INTO THE WOODS
This award winning m
usical intertwines the plots of several Brothers Grimm fairy tales & and follows them to explore the consequences of the characters' wishes and quests. The musical is tied together by an original story involving a childless baker and his wife and their quest to begin a family, their interaction with a Witch who has placed a curse on them, and their interaction with other storybook characters during their journey. Performances are on Oct. 10,11,12 & the following weekend of Oct. 17,18 & 19, 2014.
Our dynamite cast for INTO THE WOODS:
GRANNY/Giant Diane Boice-Yorck
CINDERELLA'S PRINCE Peter Mostachetti
CINDERELLA'S STEPMOTHER Kim Mauch
FLORINDA Bethany Wharton
LUCINDA Sherri Lewis
JACK David Factor
JACK'S MOTHER Cyndi Miller
LITTLE RED RIDINGHOOD Betsy Rees
MYSTERIOUS MAN Brian Yorck
NARRATOR Mark Leinung
RAPUNZEL Kelly Sienkiewicz
RAPUNZEL'S PRINCE Matt Leinung
THE BAKER Richard Lapo
THE BAKER'S WIFE Alissa Wyatt
THE WITCH Constance Lopez
WOLF George Phelps
MILKY WHITE Madison Seipp
STEWARD to the Prince Brian Mauch
CINDERALLA's FATHER Craig Colgan
NEXT MURDER MYSTERY - Our next murder mysteries are:
- We have more dates this Summer & Fall, check
Click here for MURDER MYSTERY information!
We had 6 marvelous performances of
LES MISERABLES
&
SPAMALOT
, and also great runs & excellent reviews for our recent productions of
A TALE OF TWO CITIES, NEXT TO NORMAL
RAGTIME, The Musical
. and the original musical
MOVING ON
. Visit our
A TALE OF TWO CITIES
,
NEXT TO NORMAL
,
MOVING ON
, and
RAGTIME
pages to see what our enthusiastic audience and regional reviews had to say about these well received productions. Thank you to our audience members, and to our individual and business sponsors for your support.
If you'd like to talk to us or arrange for a business sponsorship please contact us at 518-329-6293,
or write to us at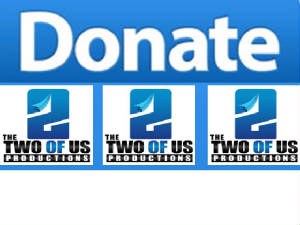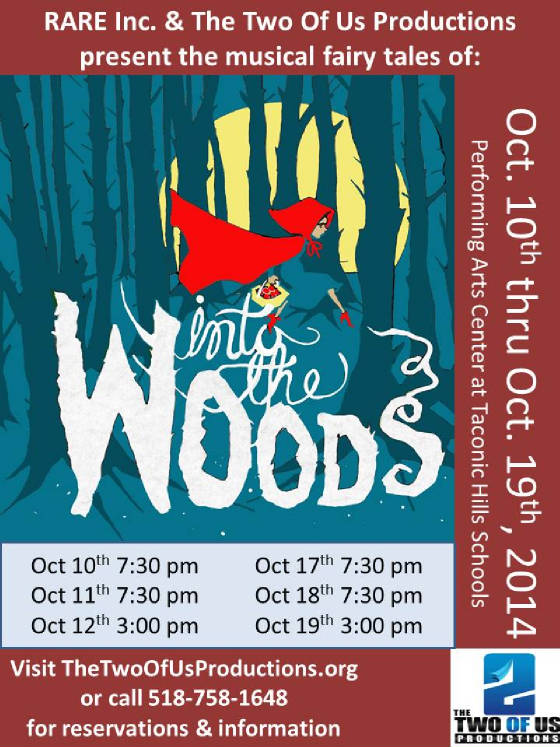 Be a part of the action! If you are interested in getting involved in front of the foot lights or behind the scenes with our production team? We'd love to hear from you. From house management, to concessions, to musicians and artists, actors and stage crew, there's a place for everyone.
To contact us for more information:
call 518-329-6293,
"into the woods ….. and home before dark"

Stephen Sondheim's beloved musical fairy tale, Into The Woods is coming to the Columbia County stage! The Two Of Us Productions Inc., based in Columbia County NY, is proud to present a fully staged original production of Into The Woods, the multi-award winning Broadway musical. Into The Woods is being presented from October 10th to 19th 2014 at the well-equipped Performing Arts Center at Taconic Hills Schools. The Performing Arts Center is located in Craryville, NY on Rt. 23, just a short drive from Hudson NY, Hillsdale NY, or Great Barrington MA.

Into The Woods uses the plots of several fairy tales from the Brothers Grimm, and ties them together with an original story involving a childless baker and his wife and their quest to begin a family, their interaction with a Witch who has placed a curse on them, and their interaction with other storybook characters during their journey. In addition to the baker & his wife, the main characters are drawn from Little Red Riding Hood, Jack and the Beanstalk, Rapunzel, and Cinderella. The reviewer for The Washington Post wrote "lovely score -- poised between melody and dissonance -- is the perfect measure of our tenuous condition. The songs invariably follow the characters' thinking patterns, as they weigh their options and digest their experience. Needless to say, that doesn't make for traditional show-stoppers. But it does make for vivacity of another kind. And Sondheim's lyrics...are brilliant.... I think you'll find these cast members alert and engaging."

The Two Of Us Productions is very pleased to bring the charming musical fairy tale to our Hudson Valley audience. The characters are engaging and interesting, presenting interesting problems and situations for our adult theater fans, but at the same time presenting a charming fairy tale of familiar characters for our younger audience members. All in all, this will be a delightful evening for everyone. With a new Disney movie of Into TheWoods coming out later this year, there is tremendous interest in this show and we are very pleased to bring this show to the local stage.

The Two Of Us Productions has called together a tightly knit ensemble of experienced area actors and musicians to bring this wonderful musical drama to the local stage. "Our rehearsal process has been an exciting one," says Stephen Sanborn, director/conductor and co-producer for The Two Of Us Productions. "To see this whimsical and at times bittersweet story, and Sondheims well known music come to life is truly a privilege. Having the honor to conduct this score with these fine musicians is a wonderful experience." Constance Lopez, co-producer and cast as the jinxed Witch states that, "to be able to perform with such a talented cast and orchestra is a rare opportunity … it is very fulfilling to work with such a cohesive cast who truly see every role as important ". Stephen & Constance, working with their talented vocal director Daniel Galliher, are in the midst of rehearsing their 20 person cast and 14 piece orchestra, and looking forward to their opening on October 10th.